Vol 1  Isssue 23  01/01/2012


3/3 Deployed to Afghanistan

November 2011. 

America's Battalion back

to the battle zone.

Sgt Dakota Meyer presented the Medal Of Honor by President Obama at the White House 9/15/11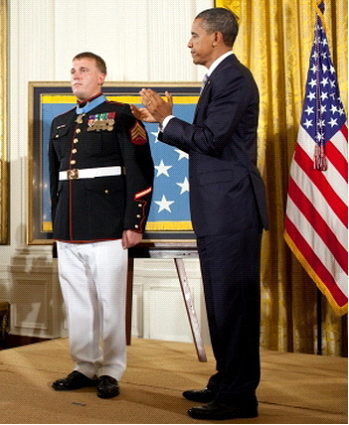 Don't Forget!!!

3/3 Reunion BRANSON MO

Jul 31 - Aug 5, 2012

120 S Wildwood Drive, Branson, MO 65616

Reservations: 1-888-566-5290

(or 417-335-5767)

Be sure to provide group code: 3/3 RVN

Rooms:

$104/nite STD

Mail in your Reunion Registration/Activity forms

(mailed out Sep 2011)

In 1960 I was a senior Drill Instructor at the San Diego Recruit Depot. The morning routine was for the DI's to awake before reveille. No recruits were permitted to be out of their Quonset Huts at that time.

One particular morning I and Sgt Black, the junior DI, were standing outside on the platoon street drinking coffee as daylight broke through. Sgt Black sighted something out of the corner of his eye (he the Recon Marine). I heard him bellow, "Come here turd!" at this short, sulking figure in utilities buttoned at the top (as required of recruits).

The figure rushed over to us and stood at rigid attention. Only then did Black and I recognize the figure as Major General Victor Krulak, Commanding Officer of the Recruit Depot (later a Lieutenant General and father of the future 31st Commandant). Apparently the General's wandering was his covert observation of conditions to ensure his dictates were being followed. One of these policies was that recruits be addressed as "Private" and not by derogatory terms (a policy generally ignored by DI's, tradition not so easily dispensed with).

Sgt Black and I immediately knew we were in deep do-do. "How do you address recruits, Sergeants" Without missing a beat, Sgt Black, now at attention, answered, "Sir, 'Turd' is the acronym that stands for Trainee Undergoing Rigid Discipline."

A moment of silence … then the General cracked a smile and ordered, "Very well, carry on."   He then strolled off to another area.


MEDAL OF HONOR

DAKOTA MEYER

A Marine who repeatedly braved enemy fire in eastern Afghanistan attempting to find and save fellow members of his embedded training team received the Medal of Honor September 15. 2011 in ceremonies in the East wing of the White House.  Meyer served with 3/3 and TAD to the ETT.

He is the first living Marine recipient of the nation's highest award for valor since now-retired Sgt. Maj. Allan Kellogg received the medal for actions 41 years ago in Vietnam.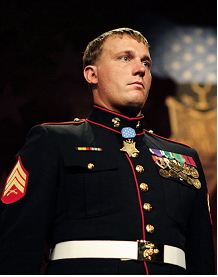 When President Barack Obama's staff called Meyer to set up a time for the President to inform him that his case for the Medal of Honor had been approved, Meyer was working at his construction job and asked if they could please call him back when he was on his lunch break, which they later did. Dakota then returned to work.

Meyer was awarded the Medal of Honor in a ceremony on September 15, 2011.  When a White House staffer contacted Meyer to arrange the ceremony, the former Marine asked if he could have a beer with the President.  He then received an invitation to the White House the afternoon before the ceremony. Meyer also requested that when he was honored, simultaneous commemorative services should be held at other associated locations to honor the memory of his colleagues who died or were mortally wounded during the ambush and his rescue attempts.

Several other service members involved in the battle already have received valor awards, including the four casualties that Meyer helped recover. The fallen Marines and corpsman were honored with Bronze Stars with "V" device a year after their death for working together after they were pinned down to hold off the enemy, allowing a group of Afghan troops they were training to rejoin a larger group of coalition forces nearby. They fought until death despite a barrage of fire.

An FMF Doc's Story

I was a Navy corpsman from the mid-1970s to the mid-1980s. I was a pharmacy technician, with a secondary military occupational specialty of 8404, Fleet Marine Force corpsman. As a pharmacy tech, my chances of serving with the FMF were two — slim to none. After nearly eight years, I ran into some "rocks and shoals" and ended up at captain's mast.

My commanding officer said I lacked self-control and self-discipline. He pulled my pharmacy tech rating and cancelled my orders to a "welded to the pier" tender in Charleston, S.C., and sent me to the Marines. I reported to Second Marine Division as the senior (time in service) hospital corpsman third class in the entire U.S. Navy. Additionally, he called the division surgeon and told him to put me in a rifle company.

When I reported in, I found that I knew the division surgeon. He was a resident when I was in pharmacy school. He told me, "Normally, you would go to a tank battalion or an artillery battery because of your age, but you're going to the Second Marine Regiment."

I also was informed that I was a discipline problem and a fat body, which wouldn't be tolerated. I received the same spiel at the regimental aid station and from my chief at the battalion aid station when I checked into 1st Battalion, 2d Marines. When I got to "Bravo" Company, the first sergeant, my platoon commander and the captain had a chat. I was told, "Just do your job, 'Doc.' Don't worry about the weight or the crap the Navy gave you."

In less than a year, I was at Marine Corps weight for my height and could pass the PFT. I went from being the "bearded, long-haired, Marine-hatin' sailor" of Major Gene Duncan's definition into a born-again, hard FMF corpsman, who could "hang" with anything my Marines did. My out-look on why I served and how I served my country did a 180. I was more proud of my tour with the Marines than anything I had done in the Navy previously.

Fast forward 26 years and I'm a district vice commandant in the Marine Corps League in North Carolina. In February 2010, I was diagnosed with Stage III cancer of the head and neck, and given a 25 percent chance of surviving the next eight months. A member of a nearby MCL detachment who had the same type of cancer told me, "Doc, before this is over, you'll wish you were dead, and you will want to quit."

During my radiation and chemotherapy, compounded by a life-threatening infection, I did wish I would die, while praying I wouldn't. I wanted to live for my wife, children and grandchildren. The pain was intense, and the meds barely put a dent in it. I went in at least a half-dozen times to tell my doctors I wanted to stop the treat-ment. I just didn't care anymore, and given my slim chances, I didn't want any more pain.

The thing that stopped me was the support I received from Marines and Corpsmen of the Marine Corps League who called and sent e-mails, cards and financial support. That support came not only from my detachment, but from individual members of the MCL within North Carolina.

I could not find any way to stand up in front of those Marines and corpsmen and say, "I quit." We know Marines don't quit. "Quit" isn't in a Marine's vocabulary. Every time I wanted to quit, I remembered how many times I wanted to quit when I was serving in the Corps. But "Doc" can't quit, he has to be there if something happens to a Marine. I remember the first time I treated one of my Marines and he said, "Thanks, Marine," instead of "Thanks, Doc." I knew I'd never quit while still conscious, even if I had to be dragged by my pack straps.

In May 2010, my treatment was over and I was declared cancer free. My doctors did their job, God did the healing, and my service in the Marine Corps and my brothers and sisters in the Marine Corps League helped me bear up to my disease and gave me the resolve not to quit, no matter how bad the pain.

The Navy CO, who had been a corpsman in World War II and who sent me to the 2dMarDiv, told me that my orders were part of my punishment. He died many years ago, but I sure would like to tell him, "You didn't punish me, Captain. You saved my life!"

Hank Kaczmarek

Lincolnton, N.C.

Help Wanted:

Volunteer Researchers needed to ascertain the status of WWII and Korean era 3/3 alumni, and/or contact information.

Over 4,000 alumni rostered for these eras, but only a minor percentage are currently accounted for.

Respondents should have online capabilities with time available to accomplish the research.

Will break out batches of 100 records per researcher (approx. 30 researchers required).

Researchers must be 3/3 alumni, due to confidentiality committments.

Please reply to:

3/3 Alumni Research

PO Box 33

Gentry AR 72734

The Department of Veterans Affairs (VA) offers a wide range of benefits and services for the surviving spouse, dependent children and dependent parents of deceased veterans and military servicemembers. Please review the detailed information on this web page, or download a handy quick reference pamphlet, VA Pamphlet, 21-03-1_proof.pdf.

Dependency and Indemnity Compensation (DIC) -- DIC is a tax-free benefit for the surviving spouse and dependent children. A spouse's Survivor Benefits Plan (SBP) annuity is reduced by any DIC amount received. Note: A surviving spouse who remarries on or after December 16, 2003, and on or after attaining age 57, is entitled to continue to receive DIC. VA also adds a transitional benefit of $250 to the surviving spouse's monthly DIC if there are children under age 18. The amount is based on a family unit, not individual children. It is paid for two years from the date that entitlement to DIC commences, but is discontinued earlier when there is no child under age 18 or no child on the surviving spouse's DIC for any reason. (More DIC information)To apply for DIC:Usually an application for DIC benefits is completed by the Casualty Assistance Officer and submitted on behalf of the survivor. VA Form 21-534a, Application for Dependency and Indemnity Compensation by a Surviving Spouse or Child, is used for this purpose. This form needs special processing and should be mailed or FAXED along with DD Form 1300, Report of Casualty, to: Department of Veterans AffairsRegional Office and Insurance CenterP.O. Box 8079Philadelphia, PA 19101FAX number: (215) 381-3084.

Parents' DIC -- Parents' DIC is a monthly benefit amount for the decedent's parents. It is based on income. (More information)To apply for Parents DIC:Download and complete a PDF version of VA Form 21-535 and mail to the VA regional office that serves the area where you reside.

Survivors' and Dependents' Educational Assistance (DEA) -- Survivors' and Dependents' Educational Assistance provides payment of a monthly education or training allowance to the spouse and children of a veteran who died of a service-connected disability. Eligible persons can receive up to 45 months of benefits. Professional, educational and vocational counseling will be provided to eligible children and surviving spouses without charge upon request. (More information)To apply for DEA:Download and complete a PDF version of VA Form 22-5490. Follow the instructions on the form for more information on how to file the application for DEA benefits.

Work-Study Employment -- This program is available to eligible survivors while pursuing a program of education or training under Dependent's Educational Assistance (Chapter 35). (More information)To apply for Work Study Employment:Download and complete a PDF version of VA Form 22-8691, Application for Work-Study Allowance. Follow the instructions on the form for more information on how to file the application for Work Study benefits.

Home Loan Guaranty -- The surviving spouse of a veteran who died in service or as the result of a service-connected disability may be eligible for a guaranteed loan from a private lender. The loan may be used to purchase, construct or improve a home; to purchase a manufactured home and/or lot; or to refinance existing mortgages or other liens of record on a dwelling owned and occupied by the surviving spouse as his or her home. (More information). There is no time limit to use this benefit.To apply for a VA Home Loan Guaranty:Download and complete a PDF version of VA Form 26-1817, Request for Determination of Loan Guaranty Eligibility and submit it to the VA Loan Eligibility Center that serves your location.

Burial Benefits (Headstones, Markers Presidential Memorial Certificates)

Headstones and Grave Markers VA provides headstones and grave markers for the graves of veterans anywhere in the world and of eligible dependents who are buried in military post, state veteran or national cemeteries. Niche markers also are available for identifying cremated remains in columbaria and memorial markers if the remains are not available for burial.

Presidential Memorial Certificate A certificate bearing the President's signature is issued to recognize the service of deceased veterans who were discharged under honorable conditions. Eligible recipients include next of kin or other loved ones. A certificate can be issued to more than one eligible recipient. VA regional offices can help you in applying for certificates.

More instructions and application information may be found by clicking on either of the two topics above.

Life Insurance Settlement -- Information on where and how to file for Servicemember's Group Life Insurance (SGLI) proceeds may be found at VA's Insurance Center Web site. You may also contact the Office of Servicemembers' Group Life Insurance by phone at 1-800-419-1473, by email at osgli.claims@prudential.com, or by mail at: Office of Servicemembers' Group Life Insurance80 Livingston AvenueRoseland, New Jersey 07068-1733

Financial Counseling services are available at no cost to SGLI Insurance beneficiaries. This service provides a one-on-one counseling session, a detailed step-by-step financial plan, and access to financial counselors for one year. For additional information, call 1-888-243-7351.

Vet Center Bereavement Counseling -- Bereavement Counseling is now being offered to parents, spouses and children of Armed Forces personnel who died in the service of their country. Also eligible are family members of reservists and National Guardsmen who die while on duty. To find out more about Bereavement Services click here.A tri-fold brochure is available for you to read or download. It is in a Power Point format but prints out nicely on two standard 8 1/2" by 11" sheets of paper. This is a 972 kb file.

Vocational Rehabilitation & Employment (VR&E) Services -- VR&E can provide a wide range of vocational and educational counseling services to survivors and dependents who are eligible for one of VA's educational benefit programs. These services are designed to help an individual choose a vocational direction and determine the course needed to achieve the chosen goal. Survivors and dependents should contact their local VA Vocational Rehabilitation & Employment program office for further information.

Education Program Refunds -- The designated survivor of a deceased servicemenber will be refunded the servicemember's :

pay reductions for participation in the Montgomery GI Bill, less benefits previously paid to the servicemember

contributions to the Veterans Educational Assistance Program (VEAP).

VA Information and Assistance

Visit your VA regional office, or

Call toll-free 1-800-827-1000, or

Electronic Internet messaging at: https://iris.va.gov, or

Information about State benefits may be found at: http://www.va.gov/partners/stateoffice/index.htm

Helpful Contacts

There are many veterans service organizations that offer assistance as well as other Federal and private organizations. For information on these organizations, refer to your telephone directory, contact your VA regional office, or visit the VA web site. Here is a list of the contacts available:

________________________________________________________________________________

note:

The Spousal Benefits section is from the VA site.  It doesn't immediately cover every question that may arise on the death of a veteran, however it does give many directions and guidelines to benefits that may be available to a surviving wife, dependent children and/or dependent parent(s).

The contacts and exact benefits to be expected, if eligible, should be studies and prepared for in advance. 

Veterans should insure that their VA disabilities and/or service connectable conditions are well documented in their VA health records.  This is crucial in the eligibility process.  What is reported on the Death Certificate also can make or break a benefits application.

Make sure that your spouse or executor is aware of any VSGLI policies, which come with 100% service connected status (A free, premiums waived, $10,000 term life policy you should have applied for when you were determined 100%.)

A little advance preparation will smooth the way for your survivors.

3/3 Marines save 9 from drowning

by Cpl. Reece Lodder

LOYA DARVISHAN, Helmand province, Afghanistan —

Dimly illuminated by a sliver of moonlight, eight shadowy figures quietly patrolled a gravel road set against a swiftly flowing canal.

At the front of the squad, Afghan National Army soldier Zaheed deliberately moved a metal detector from side to side, cautiously sweeping the road for improvised explosive devices. Fellow ANA soldiers and Marines from 2nd Platoon, Lima Company, 3rd Battalion, 3rd Marine Regiment followed closely behind.

As daylight fell into dusk here Dec. 2, they had departed Patrol Base Barcha to re-supply Marines at a nearby observation post. With their mission complete, the partnered patrol trekked through the chilly night back toward the PB.

A vehicle approached, and its once-distant headlights rapidly became larger. Zaheed stopped sweeping and stepped into the middle of the road. He waved his arms and yelled for it to stop, but the driver seemed to be unaware.

The vehicle barreled toward the patrol and became uncomfortably close, so Zaheed stepped to the left and reached for his weapon. The speeding driver panicked, swerved the same way and smashed into him. Both plunged into the canal.

"When the vehicle hit Zaheed, I thought briefly, 'What if this was one of my Marines?'" said Sgt. Matt Garst, a 23-year-old squad leader from Charlotte, N.C.

Garst shouted for his Marines to drop their gear. He instructed three ANA soldiers to provide security and jumped into the frigid, murky water as the vehicle rapidly submerged beneath it.

"I saw the problem, saw the security we needed and sent everyone else into the canal," Garst said.

Lance Cpl. James Blomstran wanted to jump in, but he was accompanied by his IED detection dog, Sage, and decided to stay on the road to provide security. Lance Cpls. Ryan Gerrity and Nicholas Dumke jumped in behind Garst.

"It took a split second to realize what happened," said Dumke, a 20-year-old rifleman from Huron, S.D. "We train for firefights, not for a vehicle going into a canal … we just snapped into reacting to a high-stress situation and did what we had to do."

Gerrity grabbed the ANA soldier and swam to shore. To no avail, Dumke fought against the wild, sweeping current. He returned to the shore, grabbed a four-foot piece of cloth and began pulling a child in, and then a man.

Garst reached the vehicle as passengers struggled to exit the shattered windshield. He saw two women and an infant drowning. He dove beneath the surface to push them above water, wrapped them in his arms and kicked toward shore.

Gerrity and Blomstran used a sickle stick — a bamboo pole used to detect IED wires — to bring in another woman and child. Garst quickly returned to the vehicle, grabbed a man and dragged him to safety. He pulled himself onto the shore and then drew out Gerrity and Dumke.

Protected by Blomstran and the ANA security, Gerrity treated the injured Zaheed. 

"The vehicle's windshield had shattered from his head," Gerrity, a 21-year-old fire team leader and native of Cranford, N.J., said. "I didn't know what injuries he might've had, so I wanted to help him right away."

Gerrity grabbed a heavy, boxy electronic countermeasure device the Marines had been carrying and elevated Zaheed's shattered left ankle. He then dug a gauze wrap out of his first aid kit, using it to cover several lacerations on the soldier's head.

Out of the canal, the Marines quickly donned their gear. In the absence of an interpreter, Garst used hand signals and his limited Pashto vocabulary to ask the driver if his entire family was now safe. They counted two men, three women, two children and an infant. The man nodded 'yes'.

"Once we got the family out and on the shore, I felt good … like I hadn't let anybody down," Garst said.

Zaheed was badly injured, so Garst aided Gerrity in treating him. Using what was available, Garst removed two antennas from the ECM device. He fashioned a makeshift splint by setting them alongside Zaheed's shattered ankle and wrapping it with gauze.

As Garst radioed in the casualty report to PB Barcha, Gerrity stopped a passing vehicle and asked the driver to take Zaheed there, escorted by fellow ANA soldier Zakirullah.

The patrol returned to the PB with the driver of the submerged vehicle to speak with an interpreter and ensure all the passengers had gotten out. Meanwhile, Garst had the rest of the family stay with a neighbor in a compound close to the canal.

Only an hour after the accident, a helicopter arrived to evacuate Zaheed to Camp Dwyer's Combat Support Hospital.

Though the people they helped didn't wear the Marine uniform, all that mattered was that lives needed to be saved, Garst said. The Marines were ready to do "whatever it takes."

"We don't really train for a situation like this, besides doing vehicle rollover drills," Garst said. "Even so, we weren't the ones trapped … it was other people. The Marines didn't hesitate for their own safety at all. They helped those who needed it at the time."

Upon mention of the word 'hero,' the Marines of Lima Company's 2nd Platoon smile and shake their heads. They say they're just Marines — men "ingrained with a willingness to help people and who think on their feet under high stress," said Blomstran, a 22-year-old native of Cortland, Ohio.

"If any one of the Marines from our platoon was put in that situation, they would've done the same thing," his friend Gerrity added. Their confidence is echoed by the rest of the platoon, and the Afghan soldiers they're working hard to mentor are noticing.

"We're proud to serve with the 2nd Platoon Marines," Zakirullah said. "They're training us well but we're also improving because of their example. The Marines are warriors and heroes for saving those lives."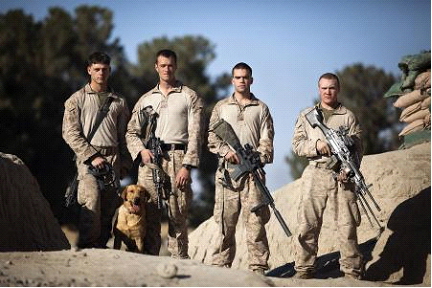 U.S. Marines from 2nd Platoon, Lima Company, 3rd Battalion, 3rd Marine Regiment stand atop Patrol Base Barcha following a security patrol here, Dec. 12. The Marines pictured (left to right) are Lance Cpl. James Blomstran and his improvised explosive device detection dog Sage, Sgt. Matt Garst and Lance Cpls. Ryan Gerrity and Nicholas Dumke. The four Marines saved nine Afghans from a canal during a Dec. 2 night patrol. Near the end of their patrol, a vehicle carrying an Afghan family struck an Afghan National Army soldier and sent both plunging into the frigid canal. The ANA soldiers provided security while the 2nd Platoon Marines braved the swiftly moving current to recover the accident victims. Blomstran, 22, is from Cortland, Ohio; Garst, 23, is from Charlotte, N.C.; Gerrity, 21, is from Cranford, N.J.; and Dumke, 20, is from Huron, S.D.                Photo by Cpl. Reece Lodder

Third Battalion, Third Marines Memorial Foundation

This is a project that deserves your attention, and continues to need your support  both physically and financially.

An online auction is in the works!  It can be accessed by any online computer at http://33USMC.com/Auction.html .  Items donated to date vary in value and uniqueness … from the 31st Commandant's (Gen C. C. Krulak) stars, coin, and an autographed Ball program (with LtGen "Brute Krulak's signature too), to a lacquered presentation box with RVN contents (Otto Lehrack), to a flag (with authenticating certif.) that flew over a base in Afghanistan (Col Norm Cooling), to the RVN Commemorative Ka-Bar (#333 … the 101st and final numbered of the series), to Robert O'Malley's MOH coin as well as a triple era poster featuring the autographs of a MOH Marine from each era, and MANY MORE!

More items will be added over the next several months, with ALL proceeds going to the 3/3 Memorial Fund (no auction fees or commissions).

Bidding will be handled online until Aug 4th, 2012 when the auction will be finalized with live bidding at the Radisson Hotel in Branson during the 3/3 Reunion.  

Donations of auctionable items are needed.   Contact Otto Lehrack or Doc Hoppy for info on how to donate items.  Monetary donations are also needed. 

A couple of bucks a month adds up to nearly $25/yr.  Make that commitment and encourage others to do the same.

Donate $25 and receive a Memorial Poker Chip! 

Remember, All contributions are

TAX DEDUCTIBLE.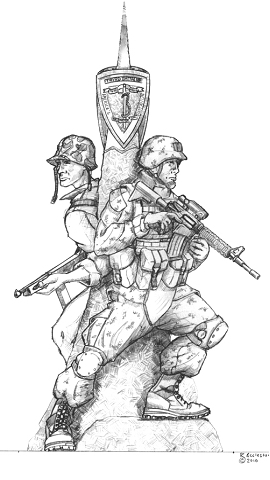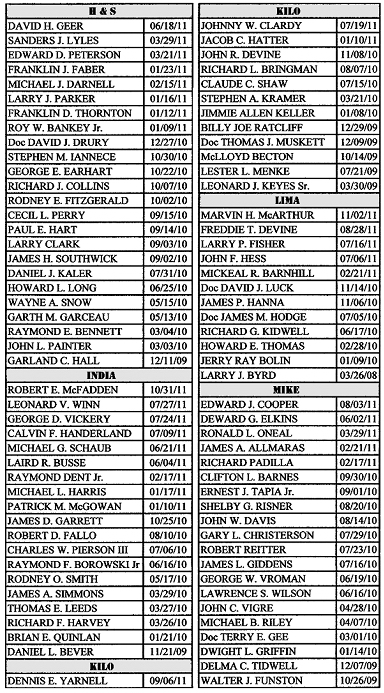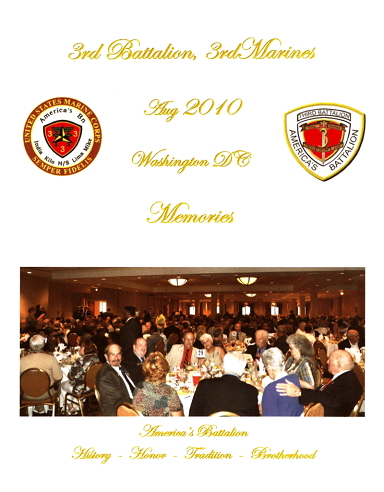 Last chance

2010 Reunion Books

36 pages full color … heavy weight paper

Includes 3/3 history and 3/3 Memorial Wall

Approximately 200 pictures

$10 per book (includes mailing cost)

3/3 Reunion Book

PO Box 33

Gentry AR 72734