Marine Corporal Receives Bronze Star Medal from Wolfowitz

By Cpl. Brian Buckwalter, USMC

Special to American Forces Press Service

ARLINGTON, Va., June 1, 2004 -- The bronze image of World War II heroes raising the American flag at Iwo Jima provided the backdrop for a ceremony here today honoring a modern-day hero.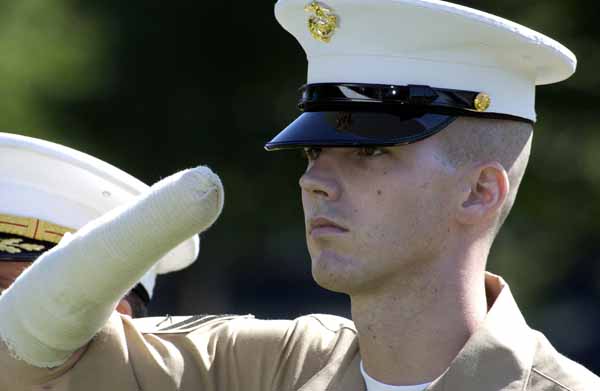 Marine Cpl. James Wright, who received the Bronze Star Medal with valor device from Deputy Defense Secretary Paul Wolfowitz, salutes during the national anthem at the June 1 presentation ceremony in front of the Marine Corps War Memorial in Arlington, Va. Wright lost both hands and suffered severe damage to his leg when his vehicle was struck by an enemy rocket-propelled grenade in Iraq's Anbar province. Despite his wounds, Wright continued to lead the Marines in his charge. Photo by Cpl. Richard Stephens, USMC

Marine Cpl. James Wright received the Bronze Star with valor device from Deputy Defense Secretary Paul Wolfowitz in front of the United States Marine Corps War Memorial for his actions during Operation Iraqi Freedom.

Marine Gen. William L. Nyland, assistant Marine Corps commandant, and Marine Barracks 8th & I Sergeant Major, Marine Sgt. Maj. Bryan B. Battaglia, assisted Wolfowitz with the presentation.

Also in attendance were seven Iraqis who, under Saddam Hussein's regime, had their hands amputated for dealing in foreign currency. They were fitted with prosthetic hands and are in the United States for medical treatment.

One of the men, with the aid of a translator, spoke on behalf of the group.

"We will never forget those who have sacrificed their limbs and those who have died and given us their blood," said Basim al-Fadhly. "And we will always remain grateful for all you have given to us."

Wright's patrol was in the Anbar province of Iraq when it came under attack. According to the award citation, "he immediately engaged the enemy with his squad automatic weapon, continuing to fire until his vehicle was struck by a rocket-propelled grenade."

Wright lost both of his hands and sustained severe damage to his leg because of the RPG, but remained calm and continued to give orders to his Marines to call for support and on how to render first aid. According to the citation, "He also pointed out enemy machine gun emplacements … assisting in the demise of 26 enemies killed in action."

It was all a part of his job, said Wright, who served as the assistant team leader with Company B, 1st Reconnaissance Battalion, 1st Marine Division, 1st Marine Expeditionary Force.

Wolfowitz compared Wright to those who served 60 years ago, honored over the Memorial Day weekend with the dedication of the National World War II Memorial.

"This past weekend, the country once again paid fitting tribute to that 'Greatest Generation' that saved this country and the world from the menace of Nazism in World War II. Corporal Wright and his comrades are every bit as great as that 'Greatest Generation,'" Wolfowitz said.

"I never expected anything of this magnitude," said Wright. "I'm flattered that the Marine Corps would go this far to present me with this award, but I really didn't expect it."