COKER, RONALD L.

Rank and organization: Private First Class, U.S. Marine Corps, Company M, 3d Battalion, 3d Marine Division (Rein), FMF. Place and date: Quang Tri Province, Republic of Vietnam, 24 March 1969. Entered service at: Denver, Colo. Born: 9 August 1947, Alliance, Colo.

Citation:


For conspicuous gallantry and intrepidity at the risk of his life above and beyond the call of duty while serving as a rifleman with Company M in action against enemy forces. While serving as point man for the 2d Platoon, Pfc. Coker was leading his patrol when he encountered 5 enemy soldiers on a narrow jungle trail. Pfc. Coker's squad aggressively pursued them to a cave. As the squad neared the cave, it came under intense hostile fire, seriously wounding 1 marine and forcing the others to take cover. Observing the wounded man lying exposed to continuous enemy fire, Pfc. Coker disregarded his safety and moved across the fire-swept terrain toward his companion. Although wounded by enemy small-arms fire, he continued to crawl across the hazardous area and skillfully threw a hand grenade into the enemy positions, suppressing the hostile fire sufficiently to enable him to reach the wounded man. As he began to drag his injured comrade toward safety, a grenade landed on the wounded marine. Unhesitatingly, Pfc. Coker grasped it with both hands and turned away from his wounded companion, but before he could dispose of the grenade it exploded. Severely wounded, but undaunted, he refused to abandon his comrade. As he moved toward friendly lines, 2 more enemy grenades exploded near him, inflicting still further injuries. Concerned only for the safety of his comrade, Pfc. Coker, with supreme effort continued to crawl and pull the wounded marine with him. His heroic deeds inspired his fellow marines to such aggressive action that the enemy fire was suppressed sufficiently to enable others to reach him and carry him to a relatively safe area where he succumbed to his extensive wounds. Pfc. Coker's indomitable courage, inspiring initiative and selfless devotion to duty upheld the highest traditions of the Marine Corps and of the U.S. Naval Service. He gallantly gave his life for his country.
March 24, 1969  LZ Alpine

J. D. Murphy and Gerald Blink

Third Row Left to Right- Holding the NVA Flag Gerald Blink and Ron Coker, Second Row- Gifford T. Foley "Tiny", Willie Terrell, Ron Playford, Taft Benjamin, Frank Drone, Michael Randazzal, First Row- Mike "THE KID" Doyle, Harold Groenoyke, Warren " The Indian" and not sure about the last Marine's Name, Maybe Darron.

    Well there they are, Mike Company 3rd Squad, 2nd Platoon, 3rd Bn., 3rd Marines, 3rd Marine Division.  A small group of men from all over the United States, most joined, some may have been Drafted, but one thing for sure, they were all in the United States Marine Corps and they were in Vietnam fighting for their Country.  Nothing really different about these men.  Except for one thing.  They were the 3rd Squad.  And they were very tight.  They watched out for one another.  They were Marine "GRUNTS" America's best.  They took this picture and made sure that everyone that was in it has a copy of it.  And most of them have a copy of it hanging in they home, or the family of the Marines that didn't make it home has one.  Any one that was in Mike Company in late 1968 or early 1969 would have known these guys.

    I know!  I knew all of them and was proud to serve with them.  From the old Salts, like Ron Playford that had been in Country for almost a full year (KIA 24 March 1969 just Two Weeks before his rotation back to the Real World) and knew all about the bush, that had taught Guys in his Fire Team, like Ron Coker (who had been in Country since Nov 1968) how to be a good Point Man and how to stay "ALIVE".  You know you never know what's going to happen when you saddle up and head out on a "Killer Team".  It might be a really easy day or you could run into all kind of shit.  Such was a March day in 1969.  It has been a long time since that time, but seems as time has stopped and the event is always there, never to go away.  I remember the NVA giving us a fit with the Mortars, every day.  I remember SSgt Goodau telling us to "Saddle Up" that we were going to get the Little Bastards today;

I remember that I usually carried the M60, but Tim Barrett wanted to carry it that day and I was glad.  You know how it is when you just get started out. Man, everyone is bitching and fussing about having to go out...  myself included.  Warren Vanaman and I were always having discussions, almost leading to fist fights, and he told me at the Reunion in New Jersey of an incident there at Alpine.  He said we were almost in a fight when the mortars started coming in, and I ran and just made it to my hole and a round hit.  As he lifted his head he was hoping I was OK. 

           Back to the Killer Team.  I remember walking along and trying to be as quiet as we could.  Then all hell breaks loose.  AK's began cracking and someone shouted GUNS UP...  we ran up to the front and Tim sprayed the area.  The gooks take off running and we began pursuit as they headed toward the creek.  SSgt Goodau says that we should leave the trail and cut thru the bush in a straight line and beat them to the Creek.  We do and we come up to a Big Rock, there's a small trail leading down a cut in between the hill and the side of the Big Rock.  Ron Playford goes down first with us all right behind him, remember now that there is room just enough for one person at a time to go down the trail.  Ron Coker is behind him now.                                                                                                  

           We are in a hurry to catch the Gooks.  Myself and Tim Barrett and Warren Vanaman jump up on the Rock trying to catch the Gooks before they get to the Creek. Crack, Crack, AK's just below us. They are in a cave under the big rock and there is no way to get to them.  I looked below me and Playford is down.  The Gooks waited until he was right in front of the Cave and they cut him down.  Ron Coker is very excited... and he was shouting to Playford, assuring him that he would get him out of there.  He gets to Playford, grabs him and was trying to pull him back from harms way.  Everyone is shouting to him trying to help, but there is no way to get to them: the Gooks are steady firing at them.  Coker never stops, he is determined to get Playford out of there.  The Gooks start throwing Chi coms, and one landed right by Coker and Playford.  I screamed "CHI COM!"  Coker grabbed it with both hands and tried to throw it back under the Rock in the Cave where the Gooks were.

Time ran out...  it blew Coker's hands off at the wrist.  It didn't stop him though; he took his stubs and ran them into Playford's cartridge belt, still dragging him.  Everyone started to throw their helmets and flak jackets down into the scene, attempting to shield the two a little. Another Chi Com went off.  It opened up Coker's chest and caused extensive facial damage.  Still Coker would not give up...  he was bound and determined to get Playford out of there. And he did, finally withdrawing far enough for some of the Squad to get both of them out of the draw.   Willie Terrell and I crawled around to the left, and I laid about 100 rounds with the M-60 into the cave.  Gifford Foley "Tiny" crawled into the cave and dragged all the Gooks out, all but one.  He was still alive and Tiny took him out with his 45.  Doc Valencia worked on both Playford and Coker, but it was futile... he could not save them.  It seemed like we were never going to get our Brothers back to Firebase Alpine.  They even sent us some help.  They took this picture as they met up with us.  Doc Hoppy told me later that he arranged for the Chopper to pick them up at the base of Alpine.

            I saw a lot of brave acts in Vietnam, and saw a lot of people die for their country.  This was the bravest act I had witnessed.  SSgt Goodau told us to write everything that happened down.  That he was going to put Ron Coker up for the MOH, so we all wrote everything that we had seen.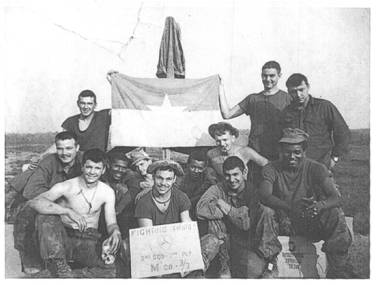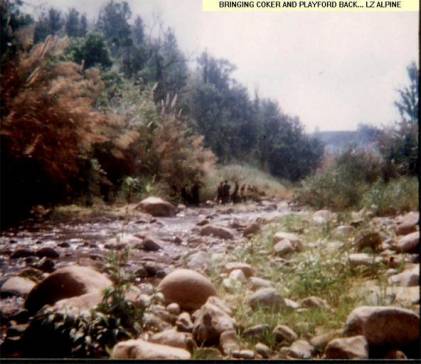 I hadn't known that Ron Coker had received the Medal of Honor until right around 1990 or so.  I was just sitting down to eat dinner when I received a call from the VA.  They asked me if I knew a Ronald Coker in Vietnam.  I told them that I did remember him. They told me that he was buried in Alliance, Nebraska and that his grave had been vandalized, and while they were checking his service out they found that he had won the MOH.  It was close to Memorial Day and they were going to have a ceremony for him and were trying to get someone who had served with him to attend.  Unfortunatly I couldn't make it.  I have regretted that ever since.  

The following people were on the Killer Team that day.  As far as I can remember..

Clifford Goodau                                       Doc Roberto Valencia Jr.

Gifford Foley "TINY"                              Ronald L. Coker                              

Gerald Blink                                            Warren "The Indian"

Willie Terrell                                           Harold Groenyke

Mike "The KID" Doyle                            Michael Randazzal

Wiley B. Early





          Warren E. Vanaman
Ronald E. Playford                                   Jimmy D. Murphy

Timothy C. Barrett

What I remember about the days leading up to March 24, 1969

By: LCpl Gerald Blink Mike Co. 3/3 3rd Squad 1968-1969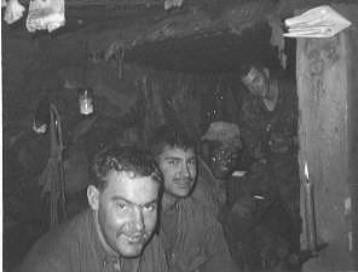 Left to right Ron Coker KIA MOH, "The Indian", Warren WIA, Taft Benjamin WIA,  Wiley B. Earley KIA

Photo by L/Cpl Gerald M. Blink, Bunker ConThien.


On the morning of 20 March 1969 Mike was assigned to fire support duty along the DMZ, Mainly to Fire Support Base Alpine that had both a battery of 105 and 155 Howitzers. From Alpine Mike Co. would do the everyday thing like, running patrols, LP, OP, Ambushes, Perimeter Watch, all the "fun" stuff 24 hours a day 7 days a week.                                            
       The area around Alpine was actually beautiful, a large mountain range running into North Vietnam and a open valley between Alpine to the north and east with a river running down the middle. During our patrols we would always manage a bath on the way back into the firebase. Ron Coker and myself were both taking turns walking point out and around Alpine.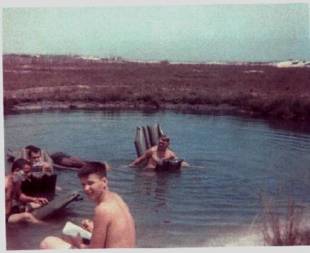 On the morning of 21 March 1969, Alpine started to take incoming 82mm Mortar from out of the north. On top of the hill the batteries were taking a beating, however down on the sides of the hill we were sitting good in our bunkers.  Myself, Coker, Frank, and the rest of the boy's all sat back and let it play out right in front of us.  We would run out and listen for the incoming Mortar popping off, run back into our bunkers and count the hits on the hill.  In return the 105 and 155 would respond with artillery back at them. This duel lasted for two days with air strikes coming in to support the Arty.

This all come to change on the night of 22 March, Tiny (Foley) came down with orders to move out, early the next morning (23 March), off from Alpine moving east across the valley then swinging north. Our mission was to take out the Mortar Pit. I was on point most of the day as we moved up and behind the suspected gun pit.  Just before nightfall we were in position at the base of the north side of the hill that was suppose to have the gun pits. We moved up to the top to take-up position for a night ambush, and without anyone saying a word this was accomplished.  Just to confirm we were in the right spot right Hill two Arty rounds were fired as a spotter; they came in on top of us like a roaring Train and then a loud explosion...  we were on the right hill in the right spot.  That night there was no activity and everyone was at 100% alert... yet there was a foreboding, a feeling that something just wasn't right.

The morning of the 24 March everyone was up getting ready to move down the south side of the hill. Tiny pulled me back off point, because I had walked the day before.  It was Playford's team up front, and that put Coker out on point. After moving about a click, we found the Mortar pits just on the reverse side of the hill.  We moved another click and we ran into the NVA coming up the hill and as Ron opened fire his M-16 jammed.  Tiny called "GUNS UP" and the gun team opened up with their M-60.  The NVA tried to return fire, but then decided to abandoned their Mortar tube and hightail it... the race was on down the hill and from there on its all history.  I lost two of my good friends that day:  Ronald Edgar Playford and Ronald Leroy Coker.
March 24th, as I recall it:

By:  J. D. Murphy


Bomb Craters also made a nice place to bathe, I mean they were everywhere, one for Bathing and the one next to it to fill your Canteens.

From the 1/4 Command Chronologies of March 1969

21 March

At 0800H the 1st Bn 4th Marines assumes OPCON of Company M/3/3, when they were lifted to Fire Support Base Alpine to relieve Company C.

At 210820H March, the first round of an enemy 82mm mortar attack instantly killed Lt/Col Sargent the Battalion Commanding Officer and 2nd Lt Wilson, the Battalion S-2 Officer.  The same round wounded many other Command Group personnel.  Major Pierpan assumed command of the Alpha Command Group and directed operations at Fire Support Base Argonne.  Major Green, the Battalion Executive Officer monitored the situation with follow up elements on Fire Support Base Alpine.  Lt/Col Willcox assumed command upon his arrival at Fire Support Base Alpine about 211400H March.  Accurate enemy 82mm mortar and sniper fire hampered helicopter operation at Fire Support Base Argonne.  Counter mortar fire against suspected enemy positions continued throughout the day and into the night.

At 210800H March Company M, 3rd Battalion 3rd Marines was chopped OPCON to the 1st Battalion 4th Marines and assumed responsibility for security of Fire Support Base Alpine from Company C. 

At 210820H March the first round of an enemy 82mm mortar attack instantly killed Lt/Col Sargent the Battalion Commanding Officer and 2nd Lt Wilson, the Battalion S-2 Officer. 

22 March

At 0130H, the Alpha Command Group ran Spooky around all likely 82mm mortar positions.  Had one secondary explosion at Grid XD 665562.

At 0630H, relieved flare ship on station after he provided continuous illumination from 2000H hours until relieved.

At 0630H, the Bravo Command Group at Fire Support Base Alpine received forty five 82mm mortar rounds from Grid XD 7356.  Fired 60mm mortar and artillery fire against this position and requested an AO who controlled two fixed wing missions.  Five friendly WIA's resulted from the enemy fire.

On 22 March, the Bravo Command Group on Fire Support Base Alpine received 45 enemy 82mm mortar rounds.  Counter mortar fire was immediately returned on the suspected enemy position.  There were no serious wounded, however, two artillery pieces were moderately damaged.

24 March

At 0630H, Company M/3/3, at Fire Support Base Alpine received approximately fifty rounds of automatic weapons fire from Grid XD 740539.  Fired 81mm mortars and air strike and conducted sweep in area with patrol.

On 24 March, Company M/3/3 at Fire Support Base Alpine received approximately 50 rounds of enemy automatic fire from Grid XD 740539.  At 0900H, Company M at Grid XD 740540 had a patrol sweeping area and made contact with unknown size enemy force and bunkers.  Returned fire and assaulted enemy position.  Results were one friendly KIA, three enemy KIA also captured two AK-47 rifles, six ChiCom grenades, twenty rounds 82mm mortars and three NVA helmets.

At 230900H, Company M, searching the suspected area made contact with an unknown size enemy unit and received one friendly KIA and inflicted three enemy KIA's.  Two AK-47 rifles, six ChiCom grenades, twenty rounds of 82mm mortar and 3 helmets were captured. (note: error on date… should be 240900H … and error on casualties  2 USMC KIA and 1 USMC WIA)

PFC

COKER

RONALD LEROY       

0311

03/24/69

KIA
Cpl

DRONE

FRANK L.      

            0311      03/24/69

WIA
LCpl    PLAYFORD

RONALD EDGAR      0351

03/24/69

KIA
Ron Coker received the Medal of Honor for his actions that day

and Frank Drone was awarded the Silver Star.

As the month ended … Company M continued its defense of Fire Support Base Alpine with regular sweeps in a radius of from three to four kilometers.

On 7 April, Company A sweeping east toward fire Support Base Alpine found thirteen NVA caves.  Each cave was capable of housing two men.  A 60mm mortar bipod and two rounds were found.  Later the same day Company A found twelve more caves with twelve 82mm mortar rounds.  All caves and the gear found were blown in place.

On 9 April, Company A completed its overland sweep from Fire Support Base Argonne to Fire Support Base Alpine and then north to Fire Support Base Greene.

11 April

At 1700H, Company Lima/3/9 chopped OPCON to 1st Bn 4th Marines.  A patrol from Company C on 11 April, triggered an NVA booby trap resulting in two emergency med-evacs. 

On the same day Company M of the 3rd Bn 3rd Marines was dropped OPCON from 1st Bn 4th Marines.

First Bn 4th Marines assumed OPCON of Company Lima/3/9 which assumed the defense of Fire Support Base Alpine.

On 27 April, 1969 LZ Alpine was closed and abandoned.